General organization's settings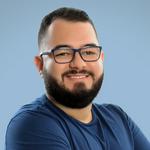 Updated by Daniel Duarte
In this article we will explain each option from the general organization's settings. We pointed 14 options (look the photo below) and explained every one of them. To access this menu, you just need to click on your organization's name in the superior right corner of your screen.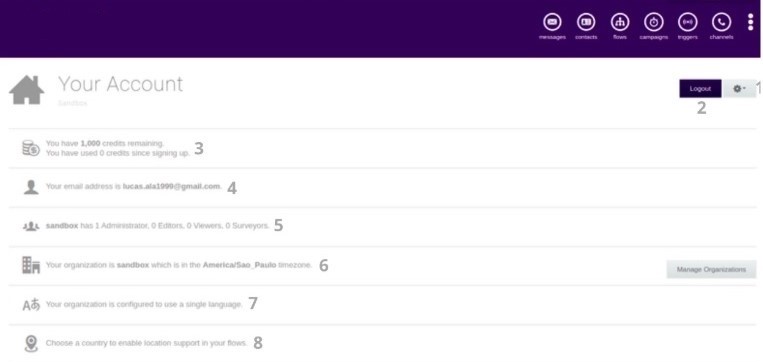 1 - Settings:
Clicking on the gear you will have access to a menu with 4 options:
In Add Channel you can create communication channels for the chatbot;
In Add Classifier you can integrate your chatbot with Classifiers, NLP tools (artificial intelligence models created for text categorization) such as Bothub.
In Export you can export a flow created for use in another organization.
In Import you can import a flow from another organization to yours.
2 - Logout:
By clicking on this option you will leave your organization.
3 - Credits:
By clicking on this option, you can check the amount of credits in your organization (number of interactions that users may have with the chatbot, which must be reloaded when they are close to zero). It is important because we are able to monitor the amount of messages exchanged between the organization and users.

4 - Account information:
This option refers to your account information. Clicking on the option you will see your data as follows and you can modify anything if you want:
5 - Account management:
a) This option is about account management, where you can see and add people related to your organization:
Click manage accounts to access your account management menu:

Your organization will have four types of access levels that will define what each person related to your organization can do within it. These access levels are:
Administrators: You have access to all the organization's features.
Editors: Type of user who has access to the same functionality as the administrator, except viewing channel logs and message logs
Viewers: You only have access to view flows, messages, contacts, campaigns and triggers.
Surveyors: Access used for people who use the flows offline, from our application.
To add a new user to the database, you must enter the email registered in the account of the person you want to include in the Invite people to your organization field, click on the side bar to choose the type of user and then save changes.
6 - Organization's information:
In this option we can look and modify the organization's information:
The information that can be modified is:
Organization name
Slug: organization's nickname
Timezone: time zone used by the organization
Date Format: date and time format, YYYY (year) / MM (month) / DD (day).
7 - Organization's language:
Here you can configure two or more languages ​​for your organization, one main (used by default in flows) and others secondary (we defined it when creating the flow)
To add the languages, just enter the first language in the primary language field and the others in the additional languages ​​field.
8 - Organization's location:
In this option you can choose the location where your organization will work:
To change click on the first field and choose one of the selectable countries. Right after click on save.
9 - Organization's Email:
Here you can define your organization's email. All emails sent in flows or campaigns will be sent in the name of the email defined here. To configure correctly, follow the steps below:
1- In Email Address type the desired email;
2- In SMTP Host you will put your SMTP host;
3- In Username , type your email username;
4- In Password, type your email password;
5- In Port, type the port of your SMTP service (probably 587)
10 - DT1:
DT1 is for B2B digital transfer for cell phone recharge and data solutions. By configuring it, one more option appears in the flow.
11 - Chatbase
Here you can connect our platform with Chatbase, a platform that monitors the behavior of your chatbot (to learn more visit: https://chatbase.com/products/virtual-agent-modeling/). You create an account there and generate a token that you configure in Push, from there it sends metrics to Chatbase that help you know where people are leaving in the flow, etc.
To connect the chatbot with Chatbase, just fill in the following fields:
Name of agent Chatbase;
API key (click "here" just below the field that will show you where to find this access key in Chatbase);
Version you are using of Chatbase.
Right after click on connect and your organization will already be connected with Chatbase.
12 - Organization's access token:
Here you can check your API token. The token is the access key for external applications to interact with the Push API.
13 - Flow Events:
These are events for integration with some external tools, such as Zapier.
14 - Globals:
They are storage variables that can store data for later use within flows. To learn more about Globals, visit the article on variables.
15 - Message Archive:
Here, the contents related to the execution data of your flows will be stored.